Multi-Award winner Richard Skipper, who is fast becoming a New York cultural icon, returns to the stage, to his audience's delight on September 10th 2017.
Russ Woolley proudly presents 'Richard Skipper Celebrates' at The Laurie Beechman Theater on Theater Row Starting September 10th, 2017
We could tell you about it, or we could show you with this Video Trailer (Below)
Richard Skipper has been booked as an artist in residence for a second season at The famed Laurie Beechman Theater in the series that has been packing them in, 'Richard Skipper Celebrates' is a talk/variety show that encourages people to celebrate each and every day and each other. This wildly popular show format in which Skipper builds the show around the date booked, allows him to create a different show every time, so whether you're there to Celebrate the 53rd Anniversary of Hello, Dolly! or because you're a die-hard fan, you're always guaranteed a great time!
The celebration continues monthly from September 10 (1PM Brunch show) through February 11th when we'll be Celebrating Richard's 57th Birthday. Stay tuned as future dates are announced.
This format ensures that every show is different – featuring The Richard Skipper Celebrates trio (also new every month). September's show features Rich Siegel on piano; bassist Jeff Carney and percussionist Rex Benincasa.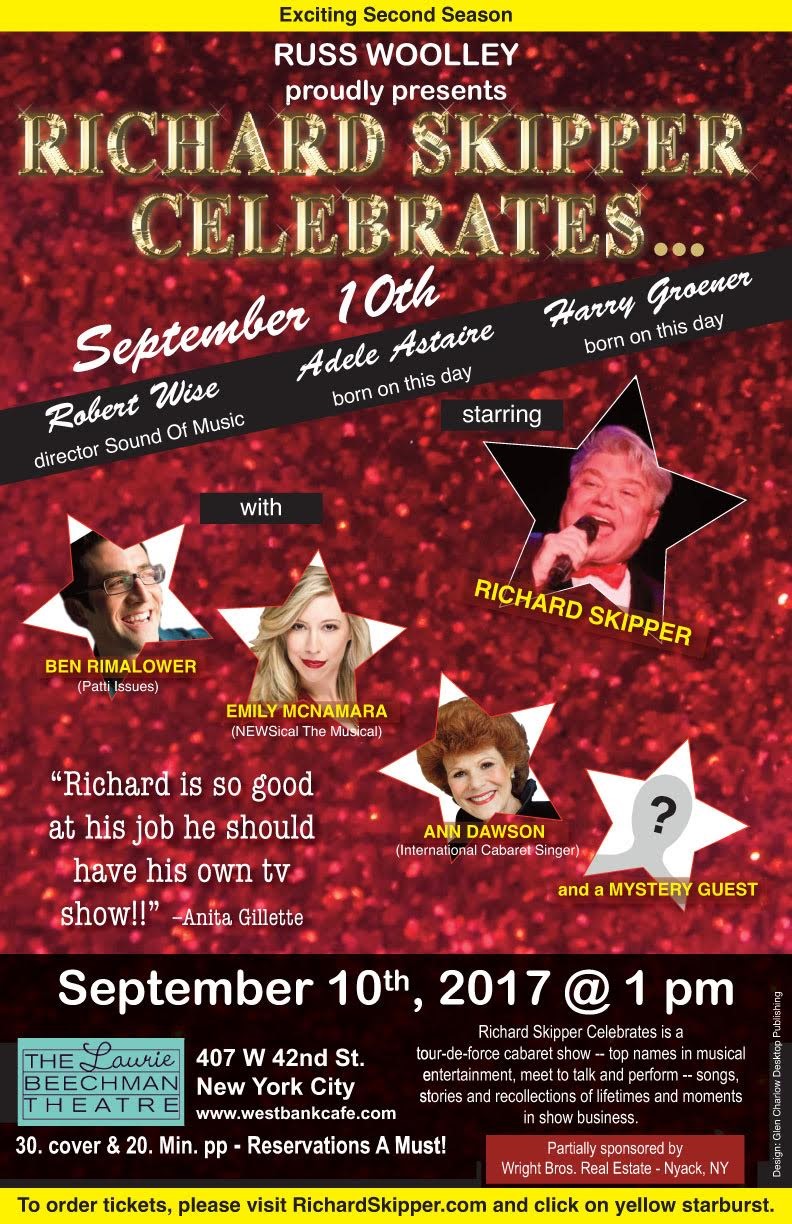 The September 10th show will celebrate the director of Sound Of Music Robert Wise as well as Adele Astaire & Harry Groener, both born on this day.
The special guests feature Ben Rimalower (Patti Issues), Emily McNamara (NEWSical The Musical), Ann Dawson (Intl' Cabaret Singer) and a mystery guest that is loved by LGBT folks (and their allies) the world over.
Multi-award winner and critically acclaimed Richard Skipper has an almost 40 year career which has taken him from South Carolina to New York to Hollywood and all points in between. He is an entertainer, raconteur, arts advocate and theater historian. Under the guise of Richard Skipper Celebrates! he has conducted over 700 interviews celebrating people in the arts. Recent interviews have included Lesley Ann Warren, Loretta Swit, Alison Arngrim, Rich Little, and David France, author of "How To Survive A Plague".
No wonder the press and fans keep fawning over him:
"What a wonderful afternoon at Richard Skipper Celebrates on June 18th! I'd had a very trying morning on Sunday, and I wasn't in the best of moods when I arrived, but within seconds of the show starting, all tension slipped away and I could feel the smile creeping across my face, a smile I kept for days after." ~Playwright Doug Devita
"What a wonderful afternoon at "Richard Skipper Celebrates" at the Laurie Beechman Theatre on June 18th. Do you remember Johnny Carson and the Tonight Show or WNEW AM from years ago.This show brought me back to those days. Besides being a wonderful entertainer, Richard is an fascinating interviewer. His guests in this show included Sarah Rice and Mark Watson, David Sabella, Warren Schein and special guest Sharon McNight. It's been such a long time since I have seen such a wonderful show. Richard has this event as a Sunday Brunch once a month. He is taking the summer off but will return with a blockbuster show on Sunday September 10th. If you are in the New York area please join me to witness talent that is rare seen any more. (September 10th, brunch at the Laurie Beechman Theater on West 42nd Street)" ~Elaine Marlowe Mitchell, NYC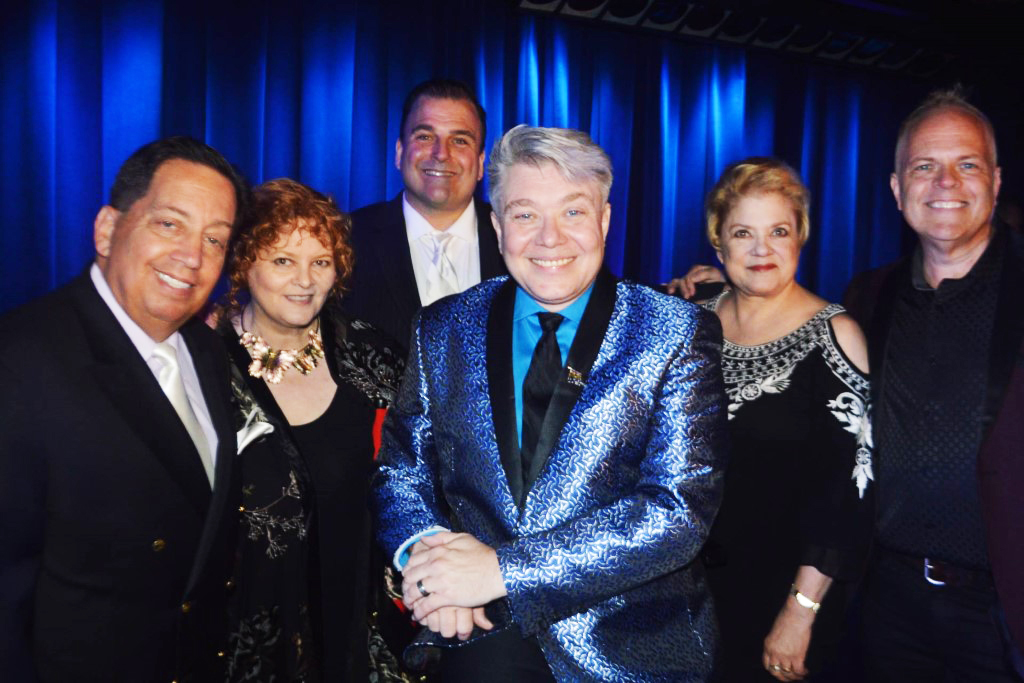 This series has sold out in the past, so make sure to get your tickets early. The music charge is $30, plus a $15 food/drink menu minimum.  For information, or to order online, visit http://www.westbankcafe.com/laurie-beechman-theatre or call 845-365-0720. The Laurie Beechman Theater is at 407 W. 42nd Street, NYC 10036 | 212.695.6909
This series is Partially sponsored by Wright Bros. Real Estate – Nyack, NY
LINKS: