Multi-Award winner Richard Skipper, who is fast becoming a New York cultural icon, returns to the stage, to his audience's delight on October 8th 2017.
Russ Woolley proudly presents 'Richard Skipper Celebrates' at The Laurie Beechman Theater on Theater Row
Richard Skipper has been booked as an artist in residence for a second season at The famed Laurie Beechman Theater in the series that has been packing them in, 'Richard Skipper Celebrates' is a talk/variety show that encourages people to celebrate each and every day and each other. This wildly popular show format in which Skipper builds the show around the date booked, allows him to create a different show every time, so whether you're there to Liza Minnelli's Birthday or because you're a die-hard fan, you're always guaranteed a great time!
The celebration continues monthly. Stay tuned as future dates are announced.
This format ensures that every show is different – featuring The Richard Skipper Celebrates trio (also new every month). October's show features David Maiocco on piano; bassist Ritt Henn and percussionist Rex Benincasa.
​The October 8th show will celebrate the director of Porgy and Bess Rouben Mamoulian as well as Sugar Babies starring Ann Miller and Mickey Rooney opening on Broadway and Les Miserables opening in London, with musical Director David Maiocco and Rex Benincasa on Percussion and Ritt Henn on Bass
The special guests feature Bistro and MAC (Manhattan Association of Cabarets and Clubs), Hanson Award Winner Sally Darling, Dierdre Friel (Mary Poppins, Papermill Playhouse), Nancy McGraw (Original Broadway cast of Nine), Natalie Douglas, and ONE MYSTERY GUEST!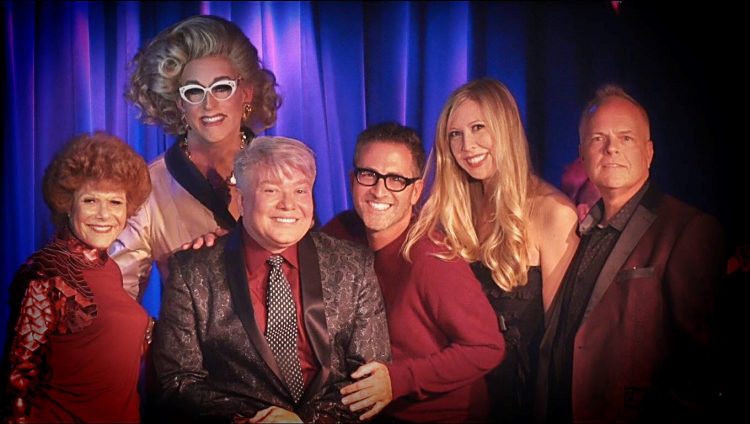 From Richard Skipper Celebrates September 10th: Ann Dawson, Doris Dear, Richard, Ben Rimalower. Emily McNamara, producer Russ Wooley
Multi-award winner and critically acclaimed Richard Skipper has an almost 40 year career which has taken him from South Carolina to New York to Hollywood and all points in between. He is an entertainer, raconteur, arts advocate and theater historian. Under the guise of Richard Skipper Celebrates! he has conducted over 700 interviews celebrating people in the arts. Recent interviews have included Mary Jo Catlett, Frank Ligon (currently on Broadway in Hello, Dolly!, Carol Lawrence, Rich Little, and David France, author of "How To Survive A Plague".
No wonder the press and fans keep fawning over him:
I was most impressed with the balance and variety of Richard Skipper Celebrates… on June 18th.  I love hearing Sarah Rice, and her Bourne-Jones beauty is a joy on top of that.  That segment was really top notch.  David Sabella was so moving when he was talking about his children, and the Sondheim montage was unexpectedly thrilling.  I liked the little table where I was sitting because I could watch Richard Skipper's reactions to everything, and that just added to the joy.  I don't think a smile left my face for the entire show.  Good for Richard!!!!
Jacqueline Parker, NYC
On June 18th, 2017,  I had the great good pleasure of singing in one of Richard Skipper's Extravaganzas par Excellence at the Laurie Beechman Theater. This one celebrated Father's Day. It was a  terrific show and Richard was, as always, a wonderful host and singer.   The show ran smoothly and professionally and the performance level was exceedingly high.  Upbeat and fun it reminded me of those wonderful TV variety shows of my youth.  But it isn't an imitation of one of them, it is Richard's own, unique creation.  If you have never been to one, I recommend it highly, if you are one of the regulars, you are already hooked.– Mark Watson
Anyone who has an opportunity to see Richard Skipper's cabaret shows should BY ALL MEANS do so! They're sensational! Great entertainers, wonderful music, lots of laughs, just the best way to spend an afternoon! I just cannot wait for the next show because I will DEFINITELY be in the audience (quietly singing along)!
Arlene Jacks, New York, NY
The music charge is $30, plus a $20 food/drink menu minimum.  For information, or to order online, visit http://www.westbankcafe.com/laurie-beechman-theatre or call 845-365-0720. The Laurie Beechman Theater is at 407 W. 42nd Street, NYC 10036 | 212.695.6909
This series is Partially sponsored by Wright Bros. Real Estate – Nyack, NY
Please visit www.RichardSkipper.com for more info