You're invited to the VIP PREMIERE of the WEDDING of the YEAR
Last year Adam Keller and his boyfriend Jared Marinelli became an internet sensation when Adam choreographed the perfect flash mob wedding proposal. Both being indoor cycling instructors, Adam was able to convince Jared that it was being filmed for their studio's new marketing promotion. Little did Jared realize that HooplaHa, the "Only Good News" digital brand, was recording Adam's sensational proposal. Jared immediately said yes and they both became a 'Joy Story' after the video went viral – getting 14 million hits worldwide. The couple received outpouring love and emotion from the LGBTQ and straight communities alike! The video's response led HooplaHa to develop and produce a digital series following Adam & Jared as they planned the ultimate wedding of the year! Relive the epic proposal here: https://youtu.be/PdxRxWaQGvU
Fast–forward to September 2017 and both Adam and Jared (#TeamJadam) have finally reached the next chapter of their story – married life!  Adam, Jared and HooplaHa-Only Good News will be at Peaches, Norwalk, CT for the world premier and VIP screening of the Joy Story Wedding Video on Tuesday, September 26th between 5 – 6:30pm. This exclusive, invite only event will include family, friends, fans and press who will join the newly married couple celebrating their wedding and new life together!
For global fans HooplaHa-Only Good News will release the wedding video on Wednesday, September 27th. Find out first-hand what the future holds for them and their plans to inspire and help young adults who face challenges, hope for change but don't yet have the loving support network they need.
For further information on the exclusive premiere, to schedule interviews and obtain wedding images please contact Rachel Lampen at 203-970-8432 #TeamJadam #JadamTiesTheKnot
www.facebook.com/TeamJadam/
www.twitter.com/Team_Jadam_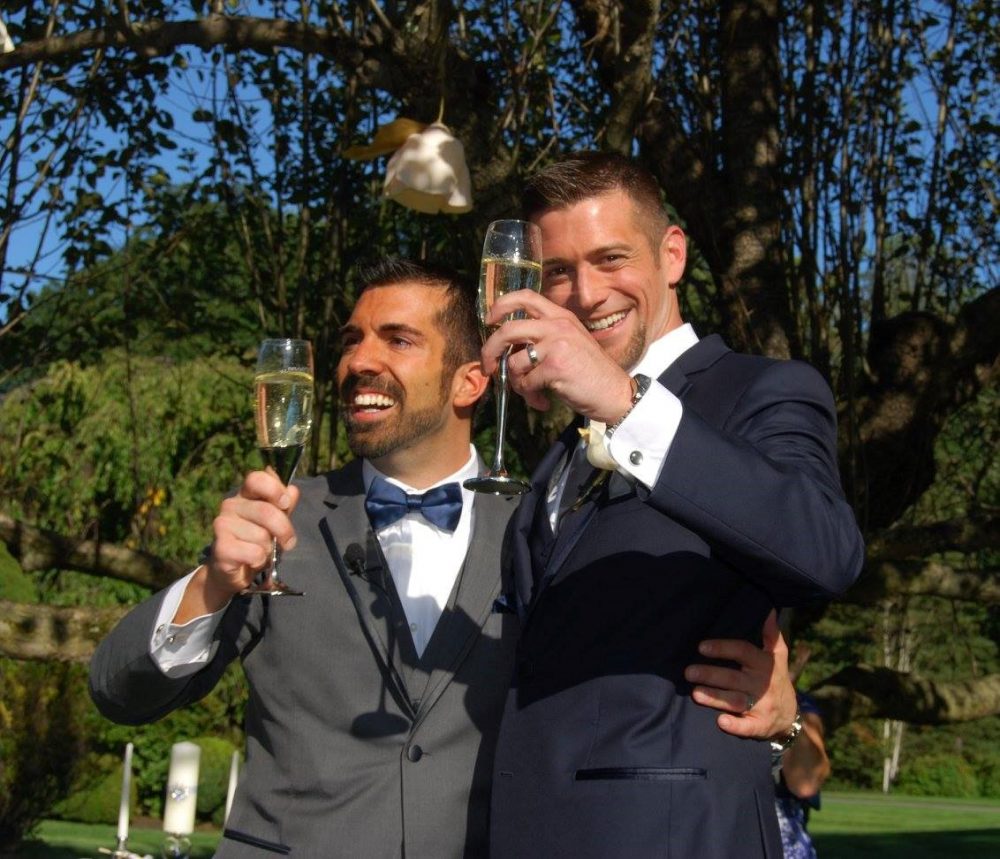 About Hooplaha.com
HooplaHa– ONLY GOOD NEWS is a digital media company and content production studio built around the good that people are committed to in the world. HooplaHa develops, produces and distributes high quality videos focused on telling powerful, positive stories that engage, inspire, and compel.  HooplaHa, with monthly video views of over 10 million, is known as the antidote to all the bad news in the world, and has been named to a variety of "best of the web" lists, including The Huffington Post's top 10 Happiness Web sites. The company, founded in 2012, has produced over 850 high quality, short-form timeless videos all under the "ONLY GOOD NEWS" banner. HooplaHa is headquartered in Norwalk, Connecticut.
The 16 Episode Joy Story Series features Adam & Jared as they planned their wedding:
Pilot – Flash Mob Wedding Proposal
After the Flash Mob Proposal – How We Pulled It Off
After the Flash Mob Proposal – The Offers Came Flooding In!
We Hit a Bump in the Road… and Almost Broke Up
Our Christmas Tree
A&J News Year's Resolutions for Health and Fitness
Meet the Wedding Party
Check Out Our Wedding Venue and Meet the Owner
The Wedding Budget
Adams Journey to Good Health
The Save The Date and Wedding Invitations
Meet the Caterer
Meet the Photographer
Our Wedding Shower
The Jack & Jack Bachelor Party
THE WEDDING